Our ancestors used to gather around fire as much as for warmth and sustenance as for storytelling and kinship. There's an intrinsic comfort—something ancient and ritualistic—that draws us to flames, like we're evolutionarily programmed to slow down and connect. That's why if you're going to make one major splurge to your outdoor entertaining space this summer, spring for Outer's Fire Pit Table. It hits all the right marks of style and design.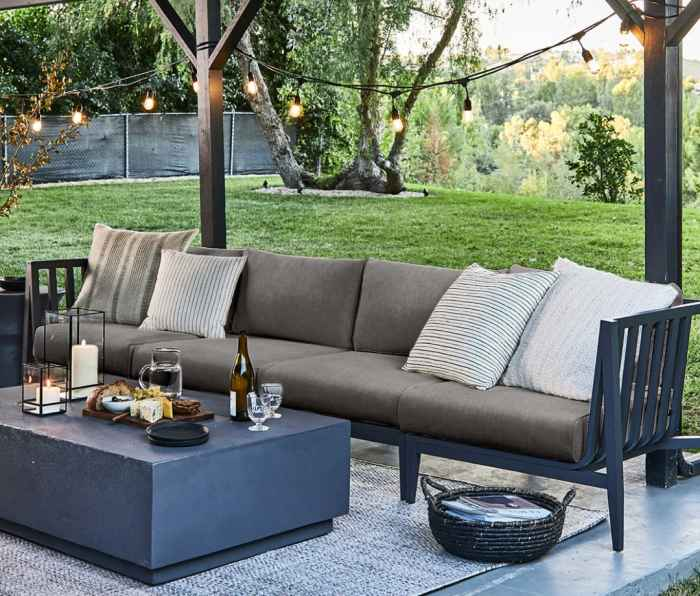 What It Is
We love multi-purpose items that transcend seasons and maximize functionality. This is a three-in-one tabletop, cook space, and patio heater. The base of the Fire Pit Table is made of glass-fiber reinforced concrete cement, which is traditionally used in domes, statues, and columns as it's strong yet light. So while this looks like a hefty piece of furniture, it's just 165 pounds (if you're curious about dimensions, it clocks in at 51.7″ length x 33.7″ width x 14″ height). This type of concrete also requires less energy to produce and results in less off-gassing, a phenomenon wherein home goods can leach chemicals into the air you breathe, making the fire pit more energy efficient and kinder to the planet, according to Outer.
 If you merely want something to serve as a gathering place, zero in on the Outer Fire Pit Table with Ceramic Balls. With its cover on, it can be used as a flat tabletop—perfect if you're hosting a large summer cookout and need the extra real estate beyond your outdoor dining set. You can set up games, charcuterie boards, or make it a s'mores station.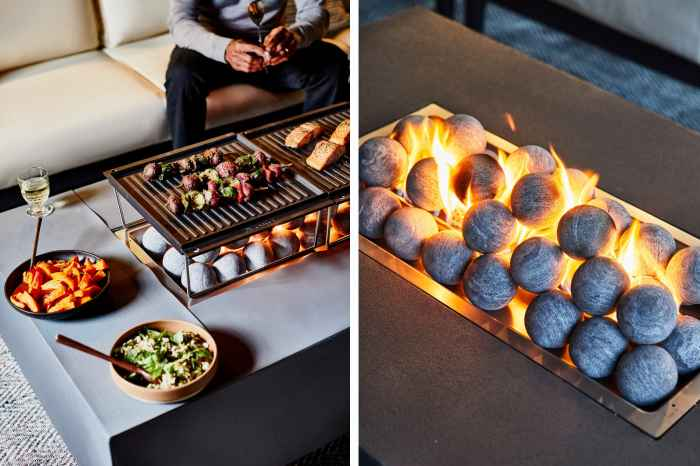 Why We Like It
Every detail about the Outer Fire Pit Table is intentionally designed. Place the splatter guards on the surface to shield it from spurts of grease and hot oil; it should spare you from an all-hands-on-deck cleanup—though should you need it, simply wet a towel or sponge with warm, soapy water and wipe down the concrete.
The soft-light ignition system releases gas gradually from a propane tank (not included) to gingerly ignite the fire pit. A slow burn is always a welcome respite from unexpected burps of flames (just ask your eyebrows). Once fully ignited, the fire licks out from around the ceramic stone spheres, which help block wind and keep heat centralized, radiating out instead of just up, for more even distribution whether you're huddling around to toast marshmallows, keep warm on a chilly night, or cook a full-blown meal.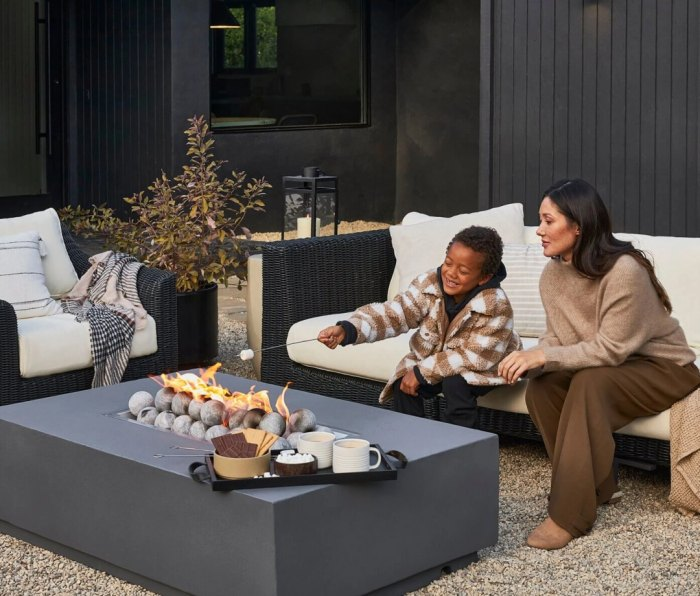 Unless your climate is agreeable all year, the Outer Fire Pit Table lets you regain some ownership of your backyard. Why relegate its use to three months a year? With this brilliant outdoor furniture accessory, you can extend your backyard activities and enjoyment well into the shoulder season. That's as close as we might get to an eternal summer, but we'll take it.
---
Post time: Jul-30-2022